OVERVIEW
Assured Performance Certification is a development process with a prize at the end. It is also a gateway to customer referral programs by leading auto manufacturers. The applying shop must provide in depth detail about their business and upload proof of compliance with each certifying standard. Proof of compliance is in the form of photos and supporting documentation. Then, the information they supplied is verified with a physical onsite inspection. Verifying that a shop meets all of these standards is where our Network of Inspectors come in.
In order to develop a Network of Certified body shops, Assured Performance has developed a Network of Inspectors across the county who conduct on-site inspections on behalf of Assured Performance. Our Inspectors are an invaluable part of our team. As an Inspector with Assured Performance, you are a Program and Company Ambassador.
The on-site inspection conducted by the Inspector is a critical component of the Certification process. It provides Assured Performance and our partner auto manufacturers with the documentation and confirmations necessary to evaluate interested shops across the country.
Assured Performance works with several leading Auto Manufacturers to identify, certify, and promote repair businesses through one joint venture program. We work with these manufacturers to make certain the next generation of vehicles are properly repaired by body shops that have the right tools, equipment, training, and facilities to repair today's automobiles to manufacturer's specifications, ensuring the fit, finish, durability, safety, and value of the vehicle.
These manufacturers have empowered Assured Performance Network to establish a national network of Certified shops based upon real, bona fide qualifications and manufacturer-specified requirements - only that which is necessary to properly repair the vehicle. Passenger safety and vehicle value demand this and nothing less. Shops are able to receive Assured Performance Certification and official Recognition from multiple Automakers – all under one program for one affordable fee.
The objective is to provide a business development and certification process for body shops based upon a new and innovative "Collision Care" service model. The operating standards for Assured Performance Collision Care includes: Business Requirements, Customer Service, Technical Capability, and Regulatory Compliance. To become Certified, a body shop must demonstrate compliance with all of the Certification standards before the shop will be promoted to consumers a being a "Certified Collision Care Provider."
ABOUT ASSURED PERFORMANCE
Assured Performance Network is made up of three organizations: a legal Co-Op, a non-profit consumer advocacy organization, and a management company in the collision repair industry. Combined, they operate as an administrator and driving force for auto body shop Certification, consumer awareness, and many vendor rebate programs. For more information on Assured Performance, please visit www.assuredperformance.net.
APPLY NOW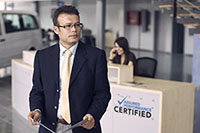 If you are interested in becoming an Inspector with Assured Performance, please "Click Here to Apply" and set up an account. An Assured Performance representative will contact you to discuss the details.
Call us today with any questions (949) 221-0010.
BEFORE YOU GET STARTED
APPROACHING THE SHOP
When you first arrive at the shop, please enter through the office area. Introduce yourself to the shop owner or the manager. You can say something like: "Hello, my name is ______________. I'm here to perform the on-site inspection for your Assured Performance certification."
OFFICE AREA
While you are in the office, collect all the required documents in the Office Area section of your handbook, answer the Office Area verification questions, and obtain the photos required in same section.
OUTSIDE THE BUILDING
When you are finished in the Office Area, let the shop owner or manager know that you will be taking photos of and answering verification questions about the outside of the building. Complete the Outside the Building section of your Inspector's Manual by answering the verification questions and by obtaining the required photos.
PAINT AREA
Return to the shop and ask permission to enter the work area. The shop owner/manager may choose to accompany you or they may not. Locate the paint booth and paint prep areas. Answer the verification questions and obtain the required photos in the Paint Area section of your Inspector's Manual.
INSIDE THE SHOP
It is important to remember that the layout of the work area will vary from shop to shop. You may choose to approach collecting the documents, verification answers, and photos in a different order than that in which they appear in the Inside the Shop section of your Inspector's manual. The shop owner/manager may choose to accompany you through the shop or they may not. Please make sure that all questions are answered and documents/photos in this section are collected, regardless of the order in which you fulfill them.
HAZARDOUS WASTE & SAFETY STATIONS
If you cannot locate the hazardous waste disposal area or the shop's safety stations, please ask the shop owner or manager to assist you in finding these areas. Once there, answer the verification questions and obtain the photos required in the Hazardous Waste and Safety Stations section of your Inspector's Manual.
BEFORE YOU LEAVE
Before you leave the shop, please be sure to thank the shop owner/manager for their time and assistance and let them know that if they have any questions regarding the processing of their certification that they can contact their Assured Performance account manager at 949-221-0010. Remember- you are the face of our certification program- leave a positive impression!